---

Hello from the Texas Hill Country and welcome to fredyargir.com. This is my personal website and most of the content is written by yours truly.
I'm still as active in music as ever, but now I also spend time writing books and making photographs. Over the years I've used two names: Fredy Argir (since 2001) and Fred Argir (before 2000). All of my various creative endeavors (music, books, and film) over the last 18 years have been as Fredy. More about my multiple personalities in THE BIO section.
The purpose of this site is to provide a forum for my music and my novels, stories, poems, and photography, so the BOOKS, MUSIC and PHOTOGRAPHY sections are pretty much the ballgame around here.
You may have noticed we have a NEWS section and this area is updated frequently. It has the latest in our music, writing, publishing, and photography-related news.  You'll also find info about site developments, studio activity, imminent projects, illicit sightings, shady activities, and anything deemed newsworthy or even close to relevant by our crackerjack editorial staff. You might want to make this your first stop when you arrive here.
The READING ROOM is downstairs, located right below the BOOKS section on the menu, and it features excerpts from some of the books mentioned on this site.
Editor's Note: If you're new to my writing, it might be best to start with my more recent stuff and work your way back. As I've aged, I think I've lightened up. In many ways, the same is true for my songs.
The PHOTOGRAPHY section is organized by gallery. Some of them are running collections and are updated on a monthly basis while others are one-time outings. On the Table of Contents to the left, place your cursor over the Photography option where you can view the drop-down menu of galleries.
There are a couple of other areas of the site that may be of interest, including THE BIO and BLOG 505. The blog is a collection of articles on a wide variety of topics. You're invited to respond and make your voice heard if you are so inclined.
And regarding THE BIO, the industry-standard, three-paragraph biography is not anyone's favorite literary format but I gave it a go in the interest of full disclosure. 
And yes, there is a convenient CONTACT form. A copy of every incoming comment comes to my desk and I reply when appropriate. A good joke is always welcome, too. No puns, please.
The last option on the menu is the MUSIC section. Here you'll find the latest in music news/events, a performance schedule, and our free download area, which has been a popular page. We've also added a musical humor section. For my friends who have asked about my recent music projects, there are two, and both have Facebook pages: The Donna and Fredy project page is here: Donna Bailey and Fredy Argir and the Rio Rangers are here: The Rio Rangers
Welcome again to fredyargir.com from our Hill Country studio high above Deer Creek. Make yourself at home and if you don't see what you're looking for, please use the CONTACT form to let us know what's missing. We'll appreciate it.
---
Secret Lives of Musicians
Secret Lives is the only novel I've published using a pen name. (My middle name is Emmett and my mother's middle name was Orlaine. Hence, Emmett Orlaine.)  But this is not a book about music. It's a collection of stories about musicians from different eras who find themselves in international, desperate, and often life-threatening situations and how they improvise and think on their feet to survive. It's a cultural time capsule, it's funny, and it's available for all eBook formats anywhere in the world—and only $4.99.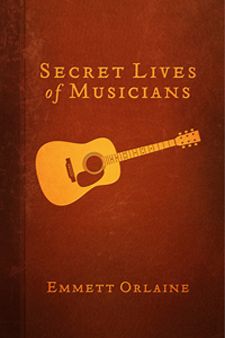 For more about Secret Lives, check out the BOOKS section.