The fourth and last story of Secret lives of Musicians is titled "The Legend of Wilson Lake."  The duo Wilson Lake (Kelly Wilson and Sandy Lake) was a popular act on the folk circuit in the Sixties and Seventies. Kelly was White and Sandy was Black, and they were the most extreme kind of highway warrior-musicians, touring nonstop for almost a decade.
Fast forward to a few years ago: a music writer in L.A. runs into Kelly Wilson in a club in LA, recognizes him, and convinces him to do a couple of interviews about his experiences at the outset of the whole movement. This is the eighth and shortest of nine separate stories in "The Legend of Wilson Lake."
---
Live Where You're Welcome
We met in Minneapolis at the beginning of the summer to write and rehearse for the next tour. Sandy flew in from the Bay Area, where she was visiting her institutionalized sister, and our new bassist, Chuck, came in from New Orleans, where he was working in a studio band. He was joining us at a good time, we thought; the arrangements were right down his alley and we were ripe for the shot in the musical arm that a fresh contribution can bring to a small ensemble.
This was the early Seventies and we looked like hippies. I guess we were hippies—busy, working, folksinger hippies. We needed to rent a place for the summer in Minneapolis and locating one was more of an effort than we anticipated, but we got lucky and found a large, second story apartment on South Aldrich. It was mostly unfurnished but we were only going to be there for a few months and we knew we could piece together what we needed—we had friends in the Cities and we didn't need much. We were used to motels.
The three of us moved in and scavenged some furniture. It was a stately old apartment in one of those Twin Cities brick tenement buildings, with heavy oak trim and mantle, radiators, and polished hardwood floors. After so many Holiday Inn rooms, at last we had a home for a while. The music sounded good within those walls and we got right to work.
That weekend we drove up to northern Minnesota to visit some musician friends. On Sunday, as we stood outside their house in Hibbing saying our goodbyes, someone noticed a huge tree stump down the block. We all walked over to admire it. It was a cross section from the base of a monster red pine, the rings and cortex were at least six feet in diameter, and it looked more like a large wooden sculpture.
One couldn't help but notice that it was cut off level, and at just about the same height as a low table. And how coincidental was that? We needed a table. And this beautiful piece from nature's museum would bring a lot of natural beauty to any room. And it was free.
The stump was big and it was heavy. Would it even fit it in the van? We solicited some help and managed to cram it in there at an angle. Gingerly we rolled, south to Minneapolis, unbalanced and overweight to the axles. When we got into the city, I called some friends to help us move the huge block of wood up the stairs.
Now, in Sandy's defense, it was right about here that she spoke up, making her argument about how ridiculous the whole scheme was; she tried to add some cooler reasoning into the proceedings, but by then it was too late—Chuck and I weren't going to be stopped. That unit belonged in our living room.
It took no small effort by six strong, young men to get that giant piece of pine up the stairs to the second floor, but when we finally dropped it in place in the middle of the living room, it was awesome. Suddenly, the whole apartment was woodsy and homey—and it smelled like the great outdoors, too. It was like we were camping out in the north woods right there in the middle of South Minneapolis.
Every night, we sat cross-legged around the big stump table and burned candles and played guitars. Friends came over to jam and were blown away by our functional wooden sculpture.
In the middle of the following week, our afternoon rehearsal around the giant stump table was interrupted by a knock on the door. It was our landlord, stopping by to meet us and welcome us to the neighborhood. Of course, I cordially invited him in. When he walked into his lovely living room and saw the massive, raw stumpage sitting in the middle of his expensive carpet and glossy hardwood floor, surrounded by an assemblage of hippies with guitars, and granted, there might have been an herbal wafting thing going on as well, he was the definition of mortified. The whole scene was like a sit-com episode. We watched his horror progress as he went through a whole chain of facial reactions in slow motion.
When he finally regained his composure, he had only one sentence for us: "You people can't live here," he blurted. The door slammed and much hilarity ensued.
---
Secret Lives of Musicians
Secret Lives is the only novel I've published using a pen name. (My middle name is Emmett and my mother's middle name was Orlaine. Hence, Emmett Orlaine.)  But this is not a book about music. It's a collection of stories about musicians from different eras who find themselves in international, desperate, and often life-threatening situations and how they improvise and think on their feet to survive. It's a cultural time capsule, it's funny, and it's available for all eBook formats anywhere in the world—and only $4.99.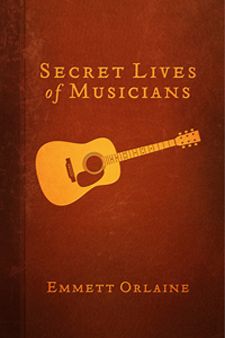 For more about Secret Lives, check out the BOOKS section.