---

The Silver Dollar Coup of 1979
When the collective bedroom of America
Draws its goodnight shade
And the carbon bed lamp of the world
Knows another day is played
When the stars that no one understands
Become a silver dollar haze
And the over-active moon slides across
The place where no crime pays
When the waist-material highway
Sneaks past the man-made door
And the smoking vehicles of mystery
Depart for the Earth's peace corps
When mules and jewels and lesser tools
Are, or are snapped in, leather cases
And the co-op of a Mexican farm
Is cloaked in Spanish laces
When the burnt Arizona desert
Meets the white peaks to the north
And the air that slept in Canada
Sluggishly gushes forth
When the grinding hum just whistles by
And fades from louds to blacks
And the bankers in the hall of fame
Are looking smooth in grey flannel sacks
When the foundries and the factories
Gather the shift's fresh numbers
And a stalwart unsung villain
Reacts to illegal wonders
When every man who ever lived
Knows his future well
And tells his son that he's the one
Who has the world to tell
When East meets West in tribal revolt
And the Hudson again flows clean
And the jockey of the rotund hour
Parks his black and silver machine
When Kerouac no longer meets up with
The bosses of the road
And those who prefer wings over asphalt
Turn in their much-too-heavy load
When every insect of the night
Can bathe in private dew
There'll be no more concept of wrong and middle and right
And no rumor of a coup
Think back, for a moment, to Seventy-nine
When there were more important things to do
Remember when everybody lived on the line
Until the summer of Eighty-two?
Don't dilute the vivid memory
Let it sparkle like it did in Eighty-two

Like the time when there were real prices
To pay for a part in a coup
When the collective bedroom of America
Draws its goodnight shade
We will all be just so many
Conspirators on parade 
Fredy Argir
Austin, Texas
---
 For more information about the Blackhawk Manuscript, go here.
Secret Lives of Musicians
Secret Lives is the only novel I've published using a pen name. (My middle name is Emmett and my mother's middle name was Orlaine. Hence, Emmett Orlaine.)  But this is not a book about music. It's a collection of stories about musicians from different eras who find themselves in international, desperate, and often life-threatening situations and how they improvise and think on their feet to survive. It's a cultural time capsule, it's funny, and it's available for all eBook formats anywhere in the world—and only $4.99.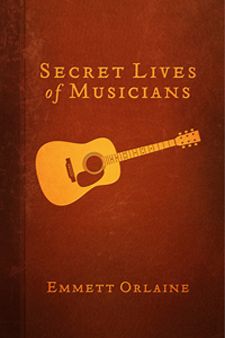 For more about Secret Lives, check out the BOOKS section.