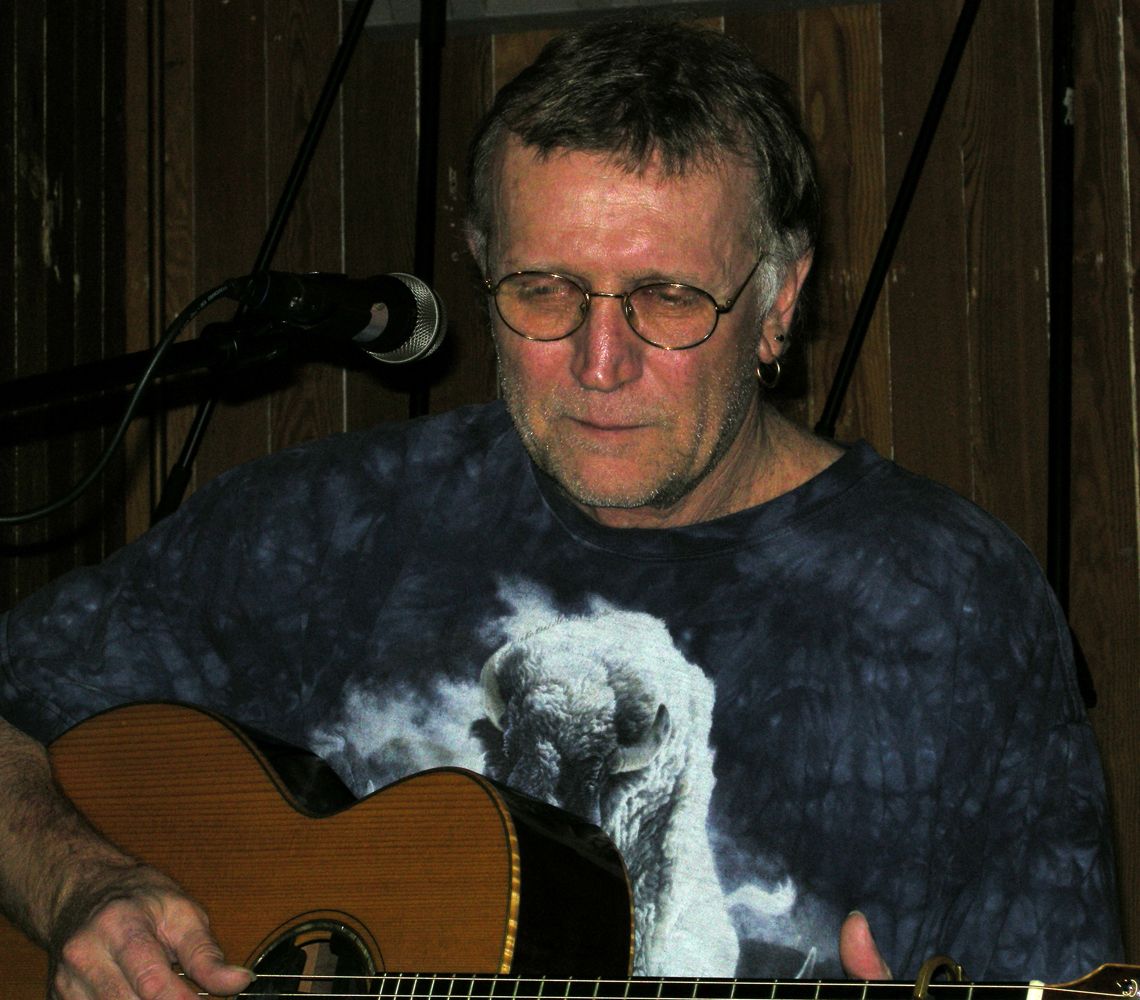 My name is Fredy Argir. I grew up in Hibbing, Minnesota and I live in Austin, Texas. Lonnie and I were friends for 50 years.
I'm here today to say a few words about Lonnie from a friend's perspective. But looking around at this this large and distinguished gathering, I'm sure there isn't much I can say that you don't already know.
But if I may, I'd like to take a few minutes to tell you a little about my lifelong friendship with Lonnie.
I met Lonnie in the late sixties in David Anthony's office up on north Central Avenue. His trio, Jokers Wild, was one of Minneapolis' top bands and David was their manager. I was on my way to Hibbing and hitched a ride on Jokers Wild band bus as they were on their way to perform at the Virginia National Guard Armory. Lonnie and I talked all the way up there. We became friends right off. We spoke the same language.
The next time I saw him, he'd quit rock and roll and was playing an acoustic guitar and writing songs. Whenever I came to the Cities, we hung out. We played all the time, wrote songs, learned a lot, laughed constantly, did coffeehouse gigs, and talked about how we were going to conquer this crazy world.
In 1974, Lonnie and George Hanson simultaneously co-produced his second album, "Song for a City Mouse" and my second album, "Thistledew." We worked with the incredible Paul Martinson at Sound 80 and that experience was a turning point for us both. I learned about big time production and Lonnie came of age as a first-class studio musician.
Through the next decade, we teamed up from time to time. Lonnie toured with Betsy and me on the National CoffeehouseCircuit. We had a rock and roll band together in Minneapolis. We worked in Texas as a trio with Barbara With. I was in a trio with Lonnie and wife Pam, and we played colleges and Twin Cities clubs including the esteemed Williams Pub. I opened his solo shows and he opened mine. Lonnie played on dozens of sessions with me and we recorded a ton of good stuff together.
Eventually, I went back to Texas and settled in Austin. Lonnie stayed in the Twin Cities. This was his home, his city, and this was where he chose to play his music. I can't really say when he crossed that line and reached such a high level of pure proficiency because he was always exceptional and he never stopped advancing. And the Twin Cities, for better or for worse, never stopped supporting him.
Anything really good or bad that happened to me in life, anything eventful or notable, any victory or setback, Lonnie was always one of my first calls. I believe the converse was also true. We never whitewashed anything, I could always count on him to be overly honest. Lonnie was very good at being overly honest. He was younger than I, but in some ways he was always my older brother. Always logical, always calm. I could always count on him to be reasonable and to find humor in any situation.
From the moment I met him, Lonnie always knew exactly who he was and what he wanted to do in this life and he never varied from it. He never doubted himself and he never stopped. He had no regrets. He knew he was doing good work. Why this guy wasn't a household word before he was 30 is something I've never understood.
And I want to mention that I think Lonnie's last years were, in many ways, his happiest. The peace he found with Patti was something that had eluded him his entire life. I'd never seen him so relaxed. His trademark restlessness was gone. I asked him shortly after they met if his relationship with Patti was serious and he told me, "It's more than that. Patti is the soul mate I never had." From my vantage point, Patti was Lonnie's angel.
You know, Lonnie was, first and foremost, a gifted individual. His musical talent was indisputable and everyone knew it.
Lonnie was an artist of substance. And his work will endure. That book will be written. And yet he always had a life outside of music as well. There are so many charming Lonnie anecdotes and stories from over the years, filled with the adventure and joy and laughter of a life well lived, and those too should one day be told.
Lonnie was a dreamer and a sweet and compassionate man. He was gentle, bright, funny, kind, clever, considerate, honest, original, fearless, and yes, as we found out at the end, brave. Lonnie Knight was a good man by any reasonable definition. He was a man who touched many lives in a personal way and the emptiness he leaves is a space that will always be his
And as I face the fact that Lonnie has left us, I can't help but think about the rich legacy he leaves, especially all of the music. The songs that chronicle his life from his youth to his later years, the brilliant guitar playing—always brilliant, the videos, the productions, all of his other writing, most of which is in longhand, the photographs, the poems, and who knows what else?
Did he achieve the success he expected and so richly deserved? Through most of his life, his immediate reaction to that question would probably have been an emphatic "no." But as I look around this room at this gathering of his dear friends and family, I would have to say, "Yes, of course he did." And if he's looking in, I know he agrees.
Rest in peace, my brother.